Twitter hints at letting users jump back in time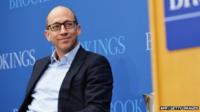 Twitter is working on a way to let users to jump back in time and follow an event as if it was happening live.
The social network's CEO Dick Costolo said the company would like to "enhance" events, such as TV programmes, for those catching up.
The idea would allow users to "follow along with Twitter in a DVR mode", Mr Costolo added.
There is no indication of when the feature is likely to become available to users.
Speaking at the Brookings Centre for Technology Innovation Mr Costolo added: "That ability to track and monitor the moments within an event, either as they happen or to catch up with them, is something we want to enhance.
"We want to make that experience even better.
"Curating the moments within the event, the media from it, and making it that much easier to navigate."
'Second screen'
During the Olympics Twitter experimented with a service providing highlighted tweets from key figures.
Mr Costolo suggested it was not effective enough.
"The amazing thing about that was that you lost the roar of the crowd," he said.
"It would be nice to see things like a graphic of spikes in the conversation, what time they happened and be able to scroll back to that time to see what happened at that particular moment."
Twitter has experimented with ways of enhancing the second screen experience for TV viewers.
The company has recently promoted ways for advertisers to target users watching a particular programme.
Mr Costolo suggested that watching a major event without Twitter was like watching TV "with the volume off".
Follow @BBCNewsbeat on Twitter