Pharrell upset after Will.i.am files a lawsuit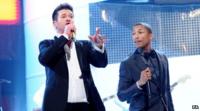 Pharrell Williams says he's disappointed Will.i.am is suing him.
The N.E.R.D. singer and producer is being sued by the Black Eyed Peas star over his new creative brand 'i am OTHER'.
According to reports court documents filed by Will.i.am says he owns the trademark to 'I AM' and the two are "confusingly similar".
In a statement Pharrell said the lawsuit doesn't stand a chance and he's sad with the way it's being handled.
Making a play on the disputed words, he said: "I AM disappointed that Will, a fellow artist, would file a case against me.
"I AM someone who likes to talk things out and, in fact, I attempted to do just that on many occasions.
"I AM surprised in how this is being handled and I AM confident that Will's trademark claims will ultimately be found to be as meritless and ridiculous as I do."
Biggest selling single
Lawyers for Will.i.am have not responded to requests for comment.
Pharrell is currently riding high in the charts, featured on Robin Thicke's hit Blurred Lines.
He also sang on the biggest selling single of the year so far, Daft Punk's Get Lucky.
Will.i.am meanwhile has recently been on TV screens as a Judge for BBC One's The Voice.
His act Leah McFall was the runner up to eventual winner Andrea Begley.
Although the 38-year-old said he was shocked Leah didn't win and there are rumours the two are going to start work together soon on an album.
Follow @BBCNewsbeat on Twitter