BitTorrent hits back after Game of Thrones piracy claim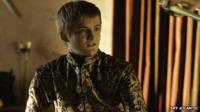 The file-sharing company BitTorrent has hit back at claims of piracy saying it "doesn't host infringing content".
It is after the series finale of Game of Thrones, shown on Sky Atlantic in the UK, was reported to have been the most popular illegal torrent ever.
The final episode of the third season of HBO's fantasy drama was reportedly downloaded a million times in 24 hours.
BitTorrent is a technology used to share large amounts of data between many users.
Torrent files are often used to download pirated music, movies, and games but the company responsible for the technology says it wants to focus on promoting legal content.
In a blog post on BitTorrent's website, vice president of marketing Matt Mason wrote: "We don't host infringing content. We don't point to it.
"It's literally impossible to illegally download something on BitTorrent.
"To pirate stuff, you need more than a protocol. You need search, a pirate content site and a content manager. We offer none of those things.
"If you're using BitTorrent for piracy, you're doing it wrong."
The website TorrentFreak recently claimed there were more than 170,000 simultaneous peers sharing one Game of Thrones file.
But Mason said the most popular torrent was actually a legally distributed show called Epic Meal Time.
In April, HBO programming president Michael Lombardo told Entertainment Weekly that the piracy of Game of Thrones was a "compliment of sorts".
He said: "The demand is there. And it certainly didn't negatively impact the DVD sales. [Piracy is] something that comes along with having a wildly successful show on a subscription network."
BitTorrent's post ended with a plea to fans to watch the show legally.
Follow @BBCNewsbeat on Twitter