First time Glastonbury performance for Mikill Pane
27 June 2013

From the section

Music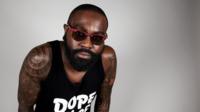 This weekend, London MC and artist Mikill Pane will have at least one thing in common with The Rolling Stones.
The rising star, and arguably the biggest band in the world, are both making their Glastonbury debut.
"I've never even been to Glastonbury," admits Pane.
"I was going to say it's a baptism of fire but I think it's more like a baptism of mud."
The UK's biggest festival has been going since 1970 and has become a rite of passage for many musicians.
Mikill Pane is performing two shows over the weekend, including headlining the BBC Introducing stage on Sunday night.
"Finding out about the first show was good enough but finding out about the second one, that sort of sent me over the moon," he laughs.
So how do you prepare for one of the biggest gigs of your career so far?
"Nothing can sort of mentally prepare you for all that mud," is Pane's realistic approach to four days on a farm.
"But I suppose after getting all your protective outerwear, it's just a case of soaking it all in and calming down before you get on stage."
No camping
The London MC says he still needs to buy a few festival essentials.
"I'm off to get a decent pair of wellies this week, I'm going to be wearing them on stage," he says.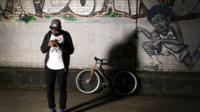 "I don't think I'm taking normal footwear to Glastonbury, there's no point."
A tent and a sleeping bag is not on the shopping list though.
"We've got a hotel quite a while away actually but I'd rather travel for sort of an hour to my hotel than camp, I really hate camping," he laughs.
Many artists are unable to stay at the festival for the whole weekend because they have other commitments.
However, Pane says he will be seeing all his favourites at Glastonbury and thinks it will be one of his favourite festivals.
"I should be able to catch all the headliners, The Rolling Stones, Mumford & Sons and I am especially excited about the Arctic Monkeys.
"It's music by one of my favourite bands, well in fact my favourite band. I'm itching to see them and that's going to be the highlight of that weekend I think."
Follow @BBCNewsbeat on Twitter