Mandela was a 'superstar' leader says South African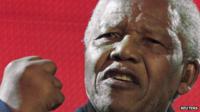 South Africa's former leader Nelson Mandela is in a critical condition in hospital.
The 94-year-old was the country's first black president and won the Nobel Peace Prize.
David Gluckman is 24 years old and from Johannesburg, South Africa's biggest city.
His first memory of Nelson Mandela growing up was when South Africa won the rugby world cup in 1995.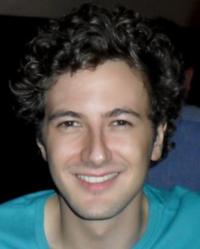 "There was a massive exhilaration when we won and then Nelson Mandela delivered the trophy to Francois Pienaar, the captain of the Springboks rugby team.
"I remember white and black families gathering round the TV to watch the ceremony. It was incredible.
"There was a real collective joy in the country."
Nelson Mandela got rid of apartheid, a system devised by the all-white National Party which oppressed the black majority.
David describes the impact of his leadership as "phenomenal".
He said: "He totally changed the country from a totally exclusive nation that served a fraction of the population to opening up to 100% of the population."
'Superstar'
Nelson Mandela was viewed as an enemy of the state and spent 27 years in prison before later becoming president.
"As a person, I think what makes him so important is his human spirit," said David.
"To be in such an evil space and to spend all your life - 27 years in prison, to fight for something and show reconciliation after - that selflessness is incredible.
"He is a superstar for all the right reasons."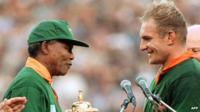 Although David has never met Nelson Mandela, both his brother and sister have.
His sister met Nelson Mandela a few years ago as she was friends with one of his close relatives.
"I was so jealous of her," he said. "She exchanged a few words with him but meeting him really left a mark on her.
"Many people regard Mandela like a family member as he is constantly talked and thought about.
"He is such an icon of the country and part of our everyday existence," he said.
"The nation is full of trauma around Nelson Mandela but we should take this time as a country to celebrate how far we have come.
"He was the most phenomenal leader on earth hands down.
"Who is going to be the next leader that will take South Africa to the next stage of advancement?"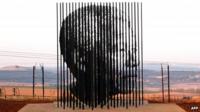 Follow @BBCNewsbeat on Twitter