Alt-J are 'surprised' by US success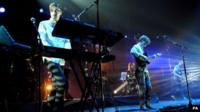 British four piece Alt-J say they are surprised that their music is becoming popular in America.
The band won last year's Mercury Prize for their critically acclaimed album An Awesome Wave, which was released in the US on 12 September
Lead single Breezeblocks went to number nine in the US alternative chart.
Singer Gus Unger-Hamilton said: "It's going really nicely over there. It's fun, they're quite into us."
Speaking to Newsbeat after Alt-J's performance at Radio 1's Big Weekend in Londonderry, Gus added: "It's strange because we consider ourselves to be more catered to European taste - a bit leftfield.
"The fact that America likes our music is surprising but nice."
Gus says they've also been surprised by some of their new fans: "I know that Yoko Ono follows us on Twitter. That's quite cool!
"For us it's weirder when really mainstream artists say they are in to it. Harry Styles was tweeting about us and I wouldn't expect him to be into our kind of music but whatever, that's great," he added.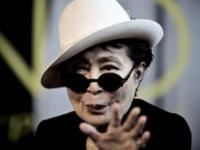 Artists from the hip hop world have also shown their appreciation for the Leeds quartet, including rapper Danny Brown.
"We're quite into our hip hop in terms of the beats we use and stuff so that's fun," said Gus.
The singer added that Alt J, who formed in 2007, are more concerned with their own music before they start working on collaborations with their new fans.
"We've been asked to do some and we said no. We're kind of concentrating on our own thing right now.
"It would be nice to do some collaborations but it would have to be with the right person. We're not really looking to do that. If it happens and it feels right then we'll do it."
Follow @BBCNewsbeat on Twitter.