Coldplay 'crossed line' for Stone Roses film Spike Island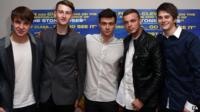 One of the stars of new music film, Spike Island, says everyone involved with the project appreciated Coldplay's financial involvement.
The band agreed to part-finance the movie after friend and director Mat Whitecross told them he was struggling to get the cash together to pay for it.
The film is about an aspiring group's obsession with the Stone Roses and their desperation to get tickets to see the group play at their now famous gig in 1990.
Elliott Tittensor, who was Carl Gallagher in Shameless, plays the band's lead singer in Spike Island.
He says Coldplay were silent partners but their help made the film happen.
"It's nice to see them crossing the line and coming over into helping people out in our line of work," the 23-year-old said.
"It's nice that they're supporting other artistic forms of making things."
All four Coldplay members have executive producer credits and also helped pay for Mat Whitecross' 2010 film, Sex & Drugs & Rock & Roll.
Elliott Tittensor also appeared in the group's video for Charlie Brown in 2011, but said they only met them once during filming at a party.
He said despite not meeting Coldplay on set, they did get to meet Mani from the Stone Roses.
"Before we started filming Mat [Whitecross] got us together for about five weeks to rehearse with the band to do instruments and singing together," he said.
"We were rehearsing in Stockport and we got a phone call saying, 'Someone's coming to visit you today.'
"We thought it was Mat the director and then all of a sudden Mani comes walking up the stairs as we're playing.
"He chatted to us and was a proper lovely guy. He sat down and had a listen to us play the song.
"We were nervous and we played him a song and it was terrible."
'Connection and bond'
One of his best friends Nico Mirallegro (Newt from Hollyoaks and Joe in BBC series The Village) also appears in the film playing the band's main songwriter Dodge.
The 22-year-old said their friendship helped them play their parts as aspiring musicians.
"We lived together and then I moved in next door to him," he revealed.
"Then Elliott got the part in this and I auditioned, but for a different character. I auditioned for Little Gaz, which is Adam Long's part.
"Mat [Whitecross] must have seen something or heard that we were friends and decided to audition me for Dodge.
"The friendship helps because you've already got that connection and bond."
Spike Island, which also features Game of Thrones star Emilia Clarke and Misfits actress Antonia Thomas, is out in cinemas now.
Follow @BBCNewsbeat on Twitter