Lil Wayne defends stepping on US flag at video shoot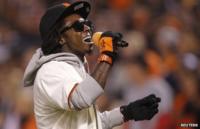 Lil Wayne has said he meant no offence when he stepped on the US national flag while shooting his latest video.
Mobile phone footage shows the rapper walking across the flag after it falls to the ground.
In a Facebook post he said it was never his intention "to desecrate the flag of the United States of America".
He'd been filming the video for the song God Bless Amerika. "The clip that surfaced on the internet was a camera trick clip," he said.
"It revealed that behind the American Flag was the Hoods of America.
"In the final edit of the video you will see the flag fall to reveal what is behind it but will never see it on the ground."
The rapper had sparked anger on some forums, including YouTube.
User ruckusdc5 wrote: "There is absolutely no excuse for what was done to the flag."
Annie Boo posted: "Even if it fell down by an accident he still looked down, saw he was stepping on the flag and carried on."
In the US, some see any apparent desecration of the national flag as an unpatriotic move, whilst others see it as free speech.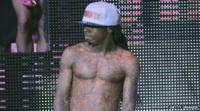 Follow @BBCNewsbeat on Twitter