What's happened to Ibiza?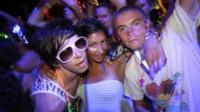 One of the oldest clubs in Ibiza has not renewed the residency contracts of some of the biggest DJs in the world.
Pacha has told Newsbeat that they wanted to "freshen up" their line-up.
However, comments left on blogs and review sites have been hinting it could be down to the big fees DJ's are demanding and the changing nature of how people are partying on the Mediterranean island.
Only David Guetta now remains on the original Pacha line up.
Steve Hulme, Pacha's musical director, says the decision to change things wasn't down to money.
"Without being disrespectful to anybody things felt a little same old, same old," he said.
"A lot of people have been on contract with us a long, long time. And we felt with the changes of management that we wanted to freshen up Pacha. It was really about the sound and the style of music that we wanted in the venue."
DJs disagree
DJ Trevor Nelson said its the first time in 12 years that he's no longer playing Pacha.
"I don't know why they've moved a lot of the DJ's there, but to be fair it seems as if it is mainly over cash. They were getting paid a lot of money and the owner decided that maybe he didn't want to pay them that sort of cash.
He also said "the spotlight is on Pacha this year" and said he was invited to return but was "uncomfortable" with the changes, and so decided not to perform there anymore.
"A lot of the punters may feel the same way, they may just be uncertain."
Something Benga agrees with "Are people going to go to the club this year? I mean there's going to be so much going on in Ibiza with the likes of the line-up going on at DC10 and the likes of the line-ups that will be Amnesia and places like that.
He said he laughed when he first heard about the changes.
"Last year the brand made £30 million and most people would say, 'If it ain't broke don't fix it'.
Las Vegas takeover
The other changing issue is the increasing popularity of EDM (Electronic Dance Music) in America. Big fee paying residencies in Miami and, in particular, Las Vegas have attracted international name DJs.
"Calvin Harris has just signed a big residency," said DJ Fresh. "All the big DJs are all hitting Las Vegas right now and Vegas seems to be the new Ibiza from a musical point of view.
Plus the increasing popularity of the day party scene in Ibiza means that DJs can perform in Vegas before flying overnight to perform at a day party in one of the big new hotels.
DJs like two members of Swedish House Mafia have signed contracts for large hotels, like Ushuaia, where events start during the day and run into the evening. Axwell, who DJs during the week, said it made sense to sign up for day parties.
"I don't think Ibiza is trying to do anything else but be Ibiza. It's definitely become a little bit more high end, that's for sure.''
But DJ Fresh and Axwell both agree the changes don't mean the end of the party scene in Ibiza.
"Ibiza will always be a special place where people will love to go and party and everywhere goes through peaks and troughs."
Follow @BBCNewsbeat on Twitter