Mental health service for mums 'patchy' claims charity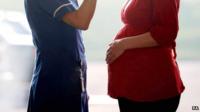 There are "worrying gaps" in mental health services for pregnant women, a charity has warned.
The NSPCC said support is patchy depending on where you live across the UK.
Sally Knock, a development manager for babies from the charity, said: "There are gaps in services at the moment.
"More needs to be done to make sure mums and babies get the help they need during this important period".
A Department of Health spokesman said: "We will work with key organisations - including the NSPCC - to see what we can do to help make sure every local NHS organisation is as good as the best in supporting women and families."
Case Study: Sophie Walls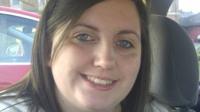 Sophie Walls, 27, is a mother of two who has experienced mixed treatment for post natal depression after both of her two pregnancies.
She had her first son in London: "About eight months after my son was born he developed meningitis, which was very traumatic.
"I felt like I had to keep him alive. That just kept going around in my head all the time. No one could go near my son, I had to look after him.
"No one contacted me. I felt like I was totally alone. I took on a lot of pressure, I was crying all the time and I wasn't sleeping.
"I had to ring a number, to ring a number and eventually a lady came out to apologise because I was lost in the system."
Sophie now lives in Lancashire where she had her daughter:
"My health visitor was amazing. The midwives were great with any query I had during my pregnancy - I couldn't fault them.
"I was put on medication because they thought I was slipping but they made me feel like it was OK.
"That's the most important thing about post natal depression - the reassurance that everything's going to be OK."
Prevention
Sally Knock says teaching expectant parents "the basics" can help.
"In extreme cases depression after child birth can affect their bond with an infant," she said. "A lot of parents just need to know the basics. They need to know what mental health impacts having a child can have and what support they can get."
On social media
Other Newsbeat listeners have been in touch about their experiences of mental health care during and after pregnancy.
Vikki: "Unless you ask for help it's not offered. In that vulnerable state it's hard to ask for help. Better training for health visitors and increased time with their patients would help."
Jo: "I was under consultant care due to my problems with depression and anxiety, and was referred to the prenatal department in October last year and was told they'd contact me, and they did, but not until JANUARY!"
Sophie Thomson: "No one spotted how ill I was. They were all just concerned as to whether I was breastfeeding or not."
Follow @BBCNewsbeat on Twitter