Jay-Z announces new album Magna Carta Holy Grail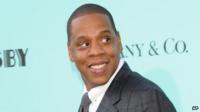 Jay-Z has announced the release of his new album, Magna Carta Holy Grail.
He confirmed the details during a three-minute television advertisement during the NBA finals in the US.
The video shows Jay-Z in the studio with Rick Rubin, Pharrell Williams and Timbaland, talking about music.
"We don't have any rules, everybody is trying to figure it out. That's why the internet is like the Wild West. We need to write the new rules," he says.
The rapper has also done a promotional deal with Samsung to release the album.
The company has paid $5 million (£3.2m) for digital copies of the album for 1m of its customers.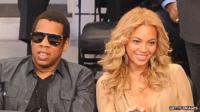 Mobile users who download an app will be able to get Magna Carta Holy Grail ahead of its July release.
The deal means that Jay-Z's 12th studio album is guaranteed to go platinum before it is released.
Online music piracy is a big problem in the music industry.
Using this release model means Jay-Z can rely on a minimum income from his record, regardless of how his fans choose to get the album after its release.
Photographs posted online show the rapper working in the studio with Justin Timberlake, Nas and Timbaland.
Earlier this year Jay-Z worked on the new Great Gatsby film starring Leonardo DiCaprio and Carey Mulligan.
He had an executive producer role, helping director Baz Luhrmann put together the jazz performances on screen and arrange the soundtrack.
Jay-Z is up for four BET Awards, announced later this month, including best group for his collaboration with Kanye West.
The Justin Timberlake track, Suit & Tie, on which Jay-Z features, is also nominated for video of the year, best collaboration and viewers' choice.
Follow @BBCNewsbeat on Twitter.