Enter Shikari to perform dance set at Reading and Leeds
16 June 2013

From the section

Music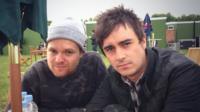 Enter Shikari are debuting their electronic side project at this year's Reading and Leeds festivals.
"We're going to unleash Shikari Soundsystem on the world," says frontman Rou Reynolds.
The band fuse metal and rock with electronic music to create their sound. The performance they are planning for Reading and Leeds will see them explore electronic dance.
"We tend to be quite greedy in terms of our influences," explains the singer.
"We're influenced by the whole musical spectrum really, whereas Shakari Soundsystem will be concentrated on dance."
The band admit they are in the early stages of preparing how they will present the show.
"It will mainly be live electronics, there will be a lot of big beats," frontman Rou explains.
"It will be bass heavy but there's a lot of eeriness and atmosphere to it as well."
No 'pressure'
Bassist Chris Batten says the band are experiencing a mixture of nerves and excitement ahead of their set in August.
"We kind of announced it and then it's like, 'Oh right, we've actually got to do this'," he says.
"Now we're kind of racking our brains and getting in the studio and in our bedrooms trying to produce it."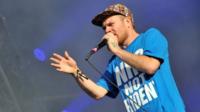 Enter Shikari have released two new tracks this year, Paddington Frisk and Radiate, which had its live debut at Download Festival.
"We've got one more in the works that will probably come out this year but we're sort of writing after this festival run," says Rou.
As for the follow-up to their 2012 record A Flash Flood of Colour, they say they are not putting any pressure on themselves.
"I think that's the beauty of today's industry," says Chris Batten. "You don't have to have an album cycle.
"You can go and record a couple of tracks and just release them when you want."
Tenth anniversary
The special gig ties in with the band's 10th anniversary, which they are celebrating this year.
"The strange thing is when you think back over the things we have done it doesn't feel like that long," says Chris Batten.
"But when you think back to the things we did early days, it's like, 'Wow that was really a long time ago' and it kind of just flies by."
Follow @BBCNewsbeat on Twitter.