Slipknot close first night of Download rock festival
15 June 2013

From the section

Music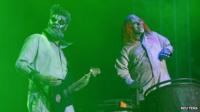 Slipknot closed the first of three nights of rock and heavy metal at Download Festival.
Front man Corey Taylor had to stop the band's set twice saying the safety barriers had come down.
Download festival organisers have told Newsbeat that the barriers were not pushed over.
In a statement, they said: "Their set was briefly stopped in order to ask fans to step back when the crowd surged forward."
During the short stoppages, Taylor told the crowd: "No-one is getting hurt on my watch, I'm not going to let that happen to my family."
Slipknot were on stage for nearly two hours and played many of their greatest hits including Psychosocial and Surfacing.
They also paid tribute to former bassist Paul Gray, who died in 2010, by performing Duality.
The Iowa metal band last performed at the festival four years ago.
"It's just one of those festivals that sticks out, " said drummer Shawn Crahan, who is also known by his stage name, Clown.
"It's kind of like a family thing, so it is always nice to come back."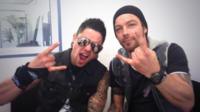 There was a huge crowd for Bullet For My Valentine, who played just before Slipknot.
Earlier in the day, they told Newsbeat they would put Slipknot to shame with their on stage pyrotechnics.
"We've got more fire than Lucifer himself," said Jason James the bassist.
The band admitted it was intimidating to be performing right before one of the biggest metal acts in the world.
"Going on before Slipknot scares me," said guitarist Michael Paget.
"But we are a UK band so we should be safe."
Other bands performing on the opening day at Donington Park included We Are The Ocean and Asking Alexandria.
Eighties rockers Europe drew a big crowd and one of the biggest cheers when they played their most famous hit The Final Countdown on the second stage.
They were on the bill this year as they missed their slot in 2012 because of the problems with the mud on the site.
Papa Roach played mid-afternoon and impressed 22-year-old Rhys McDonagh from Manchester.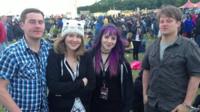 "I've seen them twice now, I love them every time, it's just Download, it's the atmosphere, it's the best."
Korn were also a big hit with fans this year and even changed a few people's minds about them.
Twenty-year-old Stacy Lawler said: "I like them but you know I'm not really that excited by them but they just blew me away."
Iron Maiden will headline Saturday night.
They are bringing their Maiden England tour to Download on the 25th anniversary of their first headline appearance.
Queens of The Stone Age, Motorhead, Alice in Chains and Young Guns are also on the line-up.
Follow @BBCNewsbeat on Twitter.