Can UKIP win over the next generation of young voters?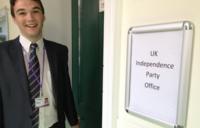 Its leader likes to be down the pub with a lunchtime pint. Its members have been written off as clowns and fruitcakes by their opponents.
It's fair to say the UK Independence Party is a bit different.
UKIP shook things up in May's local election in England and Wales, taking a quarter of the vote in places where it was standing.
But polls suggest the party is struggling to win over younger voters with its plans to pull out of the EU.
"Obviously it is something we are going to have to tackle," says 20-year-old Robin Hunter-Clarke, who now represents UKIP on Lincolnshire Council.
"We have to make clear that we are standing up for young voters and saying something different from the other parties that have let them down for so long."
Robin was a member of the Conservatives until he grew frustrated at their policies on the EU and education and defected to UKIP.
He now juggles his studies with a new job as deputy leader of the opposition in Lincolnshire.
"It was a massive decision but I decided enough was enough and I could no longer support David Cameron," he adds.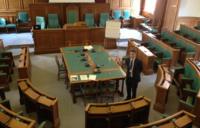 UKIP is best known as a party that wants to pull out of the European Union and freeze permanent immigration.
It says opening our borders has pushed down wages and restricted job opportunities for British workers.
That message is popular in parts of Lincolnshire, which have seen some of the highest levels of immigration from Eastern Europe.
"It's hard to get a job because of all the people coming over here," says 19-year-old George Clarke from Skegness. "It does give us less of a chance."
UKIP's support has been growing in places like this especially among older voters over 50.
Under-25s however are more likely to say they want the UK to remain part of the EU and far less likely to say they will vote UKIP.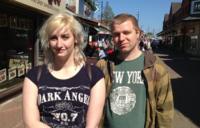 "I think the EU could do things differently with immigration but I'm definitely not against people coming into this country," says 23-year-old Jordy Hemmett.
"I would never vote UKIP because I'm not racist."
Jordy said she was also turned off by some of UKIP's other ideas, like its opposition to gay marriage.
UKIP says its policies are about "space not race".
"We just don't have enough money to allow unlimited immigration," says Robin Hunter-Clarke.
"We can't afford to give them jobs, we can't afford to give them free healthcare.
"I would have nothing to do with UKIP if it was a racist party."
Follow @BBCNewsbeat on Twitter.