Your view: Letting agent fees are 'out of control'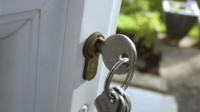 Some letting agents are charging upfront fees described as "shocking" and "out of control" by the housing charity Shelter.
The government says it's worried about the price of admin and credit checks. Shelter says the average fee is £350 and wants them banned.
But the letting agents' trade body says it is fair that tenants make a contribution.
Newsbeat listeners have been talking about their experiences of the fees.
Case Study: Angelique Atkinson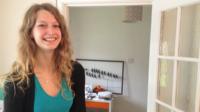 Angelique, 23, and her partner needed to move from Southampton to Basingstoke where they both work.
They started looking for a new home a couple of months before they were due to move and were shocked by the high price of properties.
They finally found a three bed place through an agency but were hit with lots of charges.
"We were told we had to pay £540 (inc VAT) in purely admin fees, none of it would be refunded," she said.
"We were then expected to pay a £1,440 deposit (£200 extra as we're looking to have a dog which is fine) and the £900 up front, within a month.
"We have never really received justification for the fees."
It took an hour for the checks to be completed.
Angelique and her partner are now in the process of relocating again.
"The current agent wanted us to pay referencing fees of £25 which we found out about from the company doing the new referencing, not from the agent themselves," she said.
"Frankly it is terrible that the government does not see this sort of thing as a priority matter, as I'm sure all they see if the amount of money it brings in."
Have your say on Newsbeat's Facebook page
Paula Marsden: "We paid £350 fees and £3k deposit then rent at £1,200. Absolutely ridiculous, and nothing gets fixed by the agency when it stops working."
Chris Torrence: "No problems and the fees were only about £100 total for both me and the missus."
Nuala Paige: "The worst one was when we left the previous agent. They charged us £25 to private another agent with a reference. They were next door to each other."
Tweet your views @BBCNewsbeat
Nathan Purcell: "Letting agents should recover their costs from the property owner, not the tenant. They're the ones who are getting a service."
Matthew Cuff-Smith: "Just been told to pay £200 in 'admin fees' just to renew my rental agreement - all they've got to do is change the date on it."
David Phillips: "I'm a landlord, do repairs for letting agents & use letting agents. Most do not know what costs LAs [letting agents] have."