Your view: Changes to GCSE exams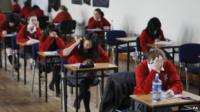 Education Secretary Michael Gove has announced changes to GCSEs that he says will help raise standards to "compete with the best in the world."
From 2015, GCSEs in England will move from coursework to exams at the end of two years and will be graded from 8 to 1, rather than A* to G.
"We need to reform our examination system to restore public confidence," Mr Gove told the House of Commons.
Labour's Stephen Twigg said this is Mr Gove's "fourth attempt at GCSE reform".
Mary Bousted, leader of the ATL teachers' union, said the constant change in exams was turning pupils into "Mr Gove's guinea pigs".
Apart from some exceptions, like practical science experiments, exams will mostly be taken at the end of two years, with more essay based questions.
Core subjects - English language and literature, maths, physics, chemistry, biology, combined science, history and geography - will be the first ones to be updated.
Wales and Northern Ireland are keeping GCSEs. There are no current plans for either country to adopt the changes proposed for England.
Newsbeat listeners have told us if they think the changes will work.
Siân Woods
"Think the teaches need to be educated on how to get their students to reach their potential. Unless you were in a high set in school, you were left to get on with it."
Callum Martyn Wright
"Coursework and modular learning is far more relevant to the real world than a small snapshot of two hours after two years... Application trumps regurgitation."
Kate Smith
"As a parent I want our children to be exposed to, essentially more 'stress' through their schooling so they can cope with exams and grading and learn to reach targets, the real world isn't all bunnies and butterflies."
Alexandra Davis
"I've done everything from classroom support to teaching including teaching a GCSE subject with 100% coursework component.
"I do think a whole system overhaul looking at how we teach and assess from an early age needs doing so these changes will be met by students who have had a lifetime of being educated under the new system.
"But our government won't do that, they want quick fixes with no research that will fail our students and put more pressure on teachers."
Follow @BBCNewsbeat on Twitter