Attraction win egg-disrupted Britain's Got Talent final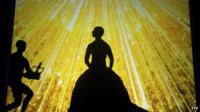 Shadow dancers Attraction have won Britain's Got Talent, after a final in which a woman threw eggs at the judges.
The Hungarian group beat teenage comedian Jack Carroll and Welsh singing brothers Richard and Adam Johnson.
Simon Cowell said: "It just shows that this country welcomes people from all over the world and they loved this act."
During Richard and Adam's performance, a woman ran from the back of the stage and threw several eggs.
She was later revealed to be 30-year-old Natalie Holt, a member of Richard and Adam's own backing group.
The pair continued singing as she was taken off stage by security guards.
'Silly thing to do'
When the cameras cut to Simon Cowell afterwards he had taken his jacket off.
He joked that he had previously tweeted he did not like eggs and said: "I really don't like eggs now."
Hosts Ant and Dec apologised, saying: "That was not part of the act, and we'll get to the bottom of what happened."
Natalie Holt later released a statement through a spokesman for the show.
She said: "I want to apologise to Richard and Adam for overshadowing their performance.
"I've never done anything like this before and in hindsight I have realised it was a silly thing to do."
Police were called but no action was taken.
Attraction's leader Zoltan Scuzs said the win was "amazing", adding: "Thank you to all the British public."
Their winning performance was a British-themed display, including Land of Hope and Glory and the voice of Winston Churchill.
The group won £250,000 and will get the chance to perform at the Royal Variety Performance.
The final was watched by an average of 11.1 million people, with a peak of 12.2 million viewers.
Follow @BBCNewsbeat on Twitter