Singer Justin Bieber tops 40m followers on Twitter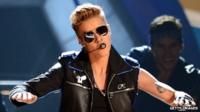 Singer Justin Bieber has become the first person to have more than 40 million followers on the social networking site Twitter.
He reached the milestone earlier this week, beating Lady Gaga who had been the first to pass 10m, 20m and 30m followers.
"#40MillionBeliebers - thank u. i love u. #grateful," he tweeted.
He also posted a picture of a message from September 2009, when he just had 40 followers.
Monkey homed
The Canadian pop singer recently won the most popular music artist prize at the Social Star Awards in Singapore.
The event recognises social media popularity, creativity and prowess on Twitter, among other sites.
Justin Bieber's pet monkey, Mally, was in the news again last week, after being re-homed following his confiscation in Munich.
The 24-week old monkey is now German national property and is living in an animal shelter in Hodenhagen.
Follow @BBCNewsbeat on Twitter