Pregnant smokers' views on carbon monoxide breath test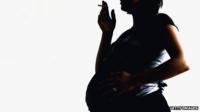 Smoking when pregnant has been linked with low birth-weight, miscarriage, deformities and labour complications.
Senior midwife Carmel O'Gorman says other risks include "cot death, and things like glue ear which can cause deafness".
Smoking in pregnancy, she says, is also "concentrated in lower socio-economic groups and women under the age of 20".
Carley Hunt, 24, is 39 weeks pregnant and waiting to be induced at Good Hope hospital in Sutton Coldfield.
This will be her second child. She smoked through both pregnancies, saying she tried and failed to quit.
"Baby's on the small side but so was my son," she says. "I carry small babies."
On health workers urging her to stop smoking, she says: "They get carried away.
"If you stop smoking, it's going to stress your body out.
"That's going to stress the baby out, and that's not good for baby's health."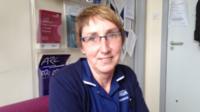 The midwives' professional body the RCM has recently backed breath tests after previously opposing the idea.
They used to say the tests could damage midwives' rapport with expectant mums.
They now argue this is outweighed by the benefit of showing the risks to unborn children, so long as expectant mums aren't forced to take the test.
"The midwife's role is to help women make an informed choice," explains Carmel. "It's a subject that's close to my heart."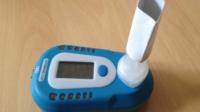 Midwives also explain as part of their appointments that carbon monoxide can come from things like faulty appliances.
Thirty-three-year-old smoker Vicky Harris is 15 weeks pregnant and has agreed to let Newsbeat watch her take a smoking breath test.
Carmel explains that a normal reading for a non-smoker is four.
Vicky is shocked to see the number 25 appear on the screen.
"It's weird," she says. "It's made me sweat. I didn't think it would be that high."
"That's the benefit of the test," says Carmel. "The visual reading of the carbon monoxide level helps you understand what is in your system."
Vicky says she is shocked, but glad she agreed to take the test.
"It is a wake up call. You would just ignore it if you didn't know," she explains.
"I will try to quit. I can't promise, but I will try."
Follow @BBCNewsbeat on Twitter.