Tulisa Contostavlos bailed after drug deal claims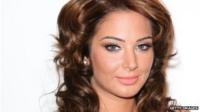 The former X Factor judge Tulisa Contostavlos has been bailed after being arrested on suspicion of supplying class A drugs.
She had been accused over the weekend by a newspaper, who said she had introduced their reporter to a drug dealer.
It was claimed the drug dealer then sold half an ounce of cocaine to them at London's Dorchester Hotel.
Tulisa's management declined to comment.
Asked about reports that Tulisa Contostavlos had been arrested the Met Police said: "Officers from Westminster have arrested two people - a 35-year-old man and a 24-year-old woman - on suspicion of supplying class-A drugs."
The police have since confirmed that both people have been bailed, pending further inquiries, until a date later in July.
The 35-year-old who was arrested and bailed along with Tulisa is a rapper called Mike GLC, who spoke to reporters outside Belgravia Police station in central London.
"We are innocent. We haven't been charged." He added that any evidence caught on camera had been "taken out of context" and the duo were "set up".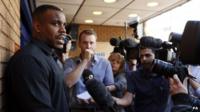 "Anyone can edit or chop things together on video," he said.
"The truth will come out in the end. I don't want to go into much more detail.
"I am going home to be with my family. This is ruining my life. I am not a drug dealer. I have never sold drugs in my life."
Tulisa recently confirmed on her Twitter account that she would no longer sit as a judge on ITV's The X Factor.
The 24-year-old added: "I'd like to thank everyone on The X Factor for two amazing years."
X Factor says "the two stories are unconnected".
Before joining The X Factor, Tulisa rose to fame with the band N-Dubz. She, along with bandmates Dappy and Fazer, had hits with singles including Morning Star, Girls and Best Behaviour.
Tulisa's private life has made the news in the past, including when the singer took to YouTube to make a statement about a leaked sex tape. At the time, Tulisa described the experience as "devastating".
Follow @BBCNewsbeat on Twitter.