Rizzle Kicks: New album will be released in September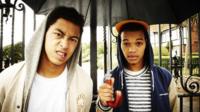 Rizzle Kicks have announced the release date of their new album, Roaring 20s, and unveiled a new track.
The duo from Brighton told their 1.3 million Twitter followers: "Roaring 20s will be released worldwide 2nd September and the official first single will be announced soon!!"
A video for new track That's Classic was also released.
Their debut album Stereo Typical was released in 2011 and reached number five in the Official Album Chart.
Jordan Stephens and Harley Alexander-Sule, both 21, didn't confirm That's Classic as their next single but did say it's "one of our favourites off the album".
The Mama Do The Hump singers also showed off the album artwork with the midnight announcement.
'Better than last record'
Rizzle Kicks recently told Newsbeat that they had enough music to fill a double album but their record label, Island Records, wouldn't let them.
Talking at this year's Brit Awards Jordan said: "Hopefully people will still like us. It's better than our last record."
Roaring 20s will see the pair collaborating with other artists.
In an interview with The Sun Stephens confirmed that star of The Wire Dominic West will make an appearance on the album.
"When we'd finished watching The Wire it was almost like losing a close friend," he said.
"Being able to have the star of the show on our record was definitely one of those 'pinch myself' moments."
The pair, who supported Ed Sheeran on his recent American tour, are set to perform at festivals including Isle of Wight, Wireless and Benicassim this summer.
Roaring 20s is available for pre-order now.
Follow @BBCNewsbeat on Twitter