Student was 'forced to pay for treatment' in Mallorca
30 May 2013

From the section

Health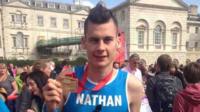 The European Commission is to take legal action against Spain after some hospitals failed to recognise the European Health Insurance Card (EHIC).
Hundreds of tourists have complained about free emergency medical treatment being denied despite having a card.
The EHIC card entitles EU citizens to free healthcare in public hospitals across Europe.
Student Nathan Cleal says he was threatened with legal action after staying in hospital while on holiday.
After being punched, the 22-year-old says he went to a clinic in Mallorca to be assessed and was then taken to hospital.
After two days of treatment, Nathan, who is studying in Southampton, says he was forced to pay out for his treatment despite having an EHIC card.
"They weren't interested in seeing my EU health card and I was charged £3,000," he said.
"When I got home there wasn't a bill from the hospital but a letter threatening me with legal action for not paying.
"I've started reluctantly paying the bill every month until I finish university."
'No problems'
Read Newsbeat's guide to health cover in Europe
Other Newsbeat listeners have been talking about their experiences.
Jordan Murray had problems in Portugal.
He got in touch on Facebook and said: "My mum got a nasty blood infection from a mosquito bite. Free healthcare was refused and had to pay around £600 for injections."
On Twitter Jack Jordon said: "Used hospitals twice in Spain and had no problems whatsoever."
But a lot of people agree with Heather Hallam. "Always take out holiday insurance as a back up," she said.
Follow @BBCNewsbeat on Twitter