Craig David: Miami has given me creative musical spark
Craig David says he feels like he is in the same creative space as he was when he recorded his multi-platinum debut album 13 years ago.
Born To Do It, the singer's first album which was released in 2000, has sold almost three million copies in the UK.
"I was that guy who was in the club, making the album," he said.
"Now I live in Miami I'm back in the club and DJ'ing while I'm making music. So I know what the people are feeling."
He received several Brit Award and Grammy Award nominations for Born To Do It.
Meeting Drake
Craig David, who's from Southampton originally, claims moving to the US has played a key part in him re-discovering his creative spark.
"Culturally it doesn't compare," he said. "When I'm speaking with people about my childhood and certain music it misses people."
The 32-year-old says living on the south coast of America means he regularly runs into some of the biggest names in US music.
He explained how he met Canadian rapper and Young Money artist Drake a few months ago.
"We met in a steak house in Miami," he said. "It was a very humbling experience.
"The manager of the restaurant introduced us and it was a weird moment where we were gushing about each other's songs."
In the past Drake has named Craig David as one a musical influence.
"We exchanged numbers and hopefully something will come from that," the singer added.
"I think people would be excited to see what we could come up with."
'Knock him out'
Craig David has released five studio albums with Born To Do It his most successful to date.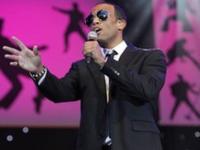 He's admitted that being spoofed by comedian Leigh Francis on Channel 4 sketch show Bo' Selecta! did have a negative impact on his career.
"If I met him right now, as much as people might think I would want to knock him out, I would have time to sit with him and be totally cool," he said.
"Some people say it was damaging. It probably was, but it was a blessing in disguise.
"A lot of people wouldn't understand this but it's been a really good learning curve for me."
Craig David's sixth album is scheduled to be released later this year.
The singer says he'd like to work with UK rappers Tinie Tempah and Kano on it.
Follow @BBCNewsbeat on Twitter