Snapchat leaked photos page closed over bullying claims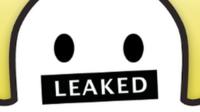 Facebook has confirmed that it has closed down a page featuring pictures taken on Snapchat.
The Snapchat Leaked page had attracted around 500,000 likes before being closed because it "violated Facebook's rules".
Photos shared using Snapchat can only be viewed for up to 10 seconds after being received.
But users of the smartphone app can take a screen shot of the photo, allowing it to be passed on.
A website and several Twitter accounts have been set up which post photos apparently taken on Snapchat.
Josh Brandwood runs the @snapchatleak account and told Newsbeat: "It's just for a laugh."
'Abusive behaviour'
He denied that posting pictures which were intended to stay private was a form of bullying.
He said: "We've blanked out a lot of the faces at the user's request or we just totally remove the picture if there's any bullying occurring."
Facebook's community standards state that it "does not tolerate bullying or harassment".
It adds that the site will "take action on all reports of abusive behaviour directed at private individuals".
Earlier this month Snapchat admitted that the recovery of photos was "sometimes possible".
A US company said it had used forensic software to retrieve photos from Android devices.
Josh Brandwood said users should be aware of potential risks in sharing photos via snapchat.
He said: "They need to realise that when they take a picture that picture is in someone else's hands and therefore if that person decides to share it, the chances are they could do.
"There's always going to be ways around this system. We've abused that flaw, in that we're sharing the pictures that shouldn't be shared."
Follow @BBCNewsbeat on Twitter