Your view: Payday loans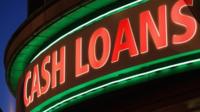 The Citizens Advice Bureau says the payday loan industry is "out of control" and it's now calling for all irresponsible lenders to be banned.
It's looked into nearly 800 cases and claims some lenders are chasing the wrong people for debts or taking more than they're owed.
There's been an increase in payday loans since the recession hit five years ago, making it harder for people to borrow money from banks.
Payday loans firms allow people to borrow money for a short time until they receive their next wage or salary cheque.
The charity claims some lenders are targeting under-18s, people with mental health problems or those who were drunk at the time of taking out a loan.
Richard Griffiths speaks for the Consumer Finance Association which represents 70 per cent of lenders in the UK: "We are an industry with a bad reputation and it's something we are working hard to try and address".
"There are lenders out there that are doing things that we certainly don't approve of and we're as happy as everyone else to see them eradicated from the industry."
What do you think?
Nuala: "I can't see how they are accused of preying on vulnerable people. They don't knock on your door or cold call you, you make the decision like a grown up to take the loan out".
Callum: "The fact that needs highlighting is that they're not only lending irresponsibly, they're clearly not doing their checks correctly."
Jennie: "Payday loan companies should all be closed down, people are struggling enough without huge rates on lending."
Czar: "Stop blaming the government and these companies for what they do. Get a job so you can pay your debts without having to go for a loan."
Dan: "I work for a bank and the majority of customers account problems are because of payday loan lenders. It's criminal what they do."
Carl: "Without this company, I wouldn't be able to start my business. They are keeping British business alive. I couldn't borrow from the banks."