Labels accused of not investing in new singers' careers
28 May 2013

From the section

Music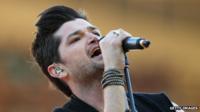 The head of the government funded Arts Council has accused record labels of failing pop stars because of a lack of long term investment in new artists' careers.
Alan Davey says the Arts Council has had to step in to help fund the careers of new and emerging talent because labels want a quick X Factor style rise and return in their careers.
He says: "They want talent to be delivered to them ready made and they're not prepared to take a long period of time investing in talent."
The council is offering new artists the chance to apply for a new fund called Momentum.
They will get between £5,000 and £15,000 out of a £500,000 pot to help acts who have content under their belt, but want to produce more.
A recording industry report last year estimated that it costs around a million pounds to break an artist in a developed market.
But albums are significantly cheaper than 10 years ago, sales are falling, and online piracy is still a major threat, according to Mike Smith, who is the president of music at Virgin EMI records.
"I'm confident that the market will pick up. Certainly we've taken a battering over the last few years and that has resulted in less money flowing around the business."
He still works as an A&R agent which stands for Artists and Repertoire. It's the part of a record label that is responsible for scouting new talent. In the past he's signed White Stripes, Arctic Monkeys and Supergrass.
"One area I know we've been very keen to protect is the investment in new music. New artists, that's the absolute life blood of our business. The one place we will never cut back on is the investment in new talent because that's where the future of our business lies."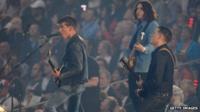 The industry's keen to point out that recorded music is an investment-intensive business.
They say money going into A&R has actually increased with 16% of revenues spent on new artists.
But according to The Script's lead singer Danny O'Donoghue the industry itself has changed and the people who hunt out new artists do not always do it in local live music venues.
"Nobody knows about the industry nowadays. There are a lot of A&R men looking at online and scouring for the next big talent online. Most of the people on those shows are sourced, online.
"I think that's really important to get out there.
"Then you're not just a UK act, you're a worldwide act because everybody in the world can see where you are going."
Follow @BBCNewsbeat on Twitter