Musicians frustration at fans filming their gigs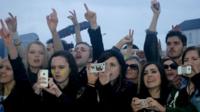 Many musicians say they are frustrated with fans filming gigs on their smartphones.
Jack White and the Yeah Yeah Yeahs have put up signs at their concerts asking people to leave their mobiles in their pockets.
Felix White from The Maccabees says he thinks it ruins the experience.
"People just seem to be totally obsessed with preserving all these things that you can't even hear or see," he says.
"I think that is a negative for live music."
Alt-J, who formed in 2007, say it happens a lot at their gigs.
"I really want to say on stage sometimes, this is our last song, just put down your phones and enjoy it and remember it," says Gus Unger-Hamilton from the band.
"I'm not even sure what people do with that footage, it probably looks and sounds really rubbish."
Music fans like 18-year-old Kate Nightingale and her friend Caroline Day say they both film at gigs because they don't want to forget the experience.
The footage they have shot on their smartphones sounds very distorted but they insist they will watch it again.
"[It's] memories, so you don't forget the good times," says Kate outside an A$AP Rocky gig in London.
"It is a bit annoying though sometimes when there is loads in front of your face and you can't see."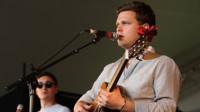 Live music apps
New apps have been developed primarily to enhance the live music experience with the hope it will encourage fans to put their phones away for some of the gig.
Alt-J helped launch Soundhalo, which allows music lovers to download the track they have just seen live on stage to their phone within minutes.
Fans don't even have to hold their phones in the air at all to make use of this app.
"From a punters perspective it's really about making that live experience more fun," explains Liza Boston, co-creator of Soundhalo.
"It's also about supporting your artist, we have a royalty model."
There are other companies tapping in to the live music footage market.
Dublin-based 45 Sound have worked with more than 200 artists, they sync fan footage with quality audio from the gig.
Cathal Furey, who set up the company, says it requires fans to get their phones out but only for one track.
"What the band will do is choose one song from their set that they will work with their fans to fan shoot a live video of," he explains.
"It's a way of artists saying guys we understand you'd like to film some of it but lets work together."