Justin Bieber takes top award at Social Star Awards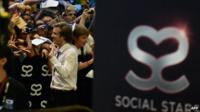 Justin Bieber and One Direction have won the top prizes at this year's Social Star Awards in Singapore.
The Canadian pop singer took home the most popular music artist prize while the former X Factor boy band won in the music group category.
Prizes are handed out for social media popularity, creativity and prowess on Twitter, among other sites.
Each category also has a 'super-fan', with the person who follows the winner most closely taking the prize.
There are various other awards including most popular author, UK sportsperson, sports team and film.
Justin Bieber was praised for beginning his career on YouTube at the age of 13 along with his increasing popularity on Twitter.
There are also winners of specific regions.
Jackie Chan was recognised for his Chinese followers and Shakira won for her support in Columbia.
Although the big stars won in many of the categories, there were a few surprises.
Smosh took the title of North American social media star for their comedy site.
Other winners at the Social Star Awards include:
Most popular music artist: Justin Bieber
Actor: Selena Gomez
Music group: One Direction
Sport team: FC Barcelona
Film: Twilight
Sports person: Cristiano Ronaldo
TV show: Ellen DeGeneres Show
Follow @BBCNewsbeat on Twitter