Newsbeat guide to... Unmanned drones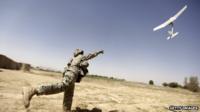 US President Barack Obama has defended the use of unmanned drones in a speech in Washington DC.
He said they were only used to attack imminent threats to the US.
So-called "drone wars" have come under increasing scrutiny after civilian casualties have resulted from air strikes.
Britain's own armed drones, working in Afghanistan, are now operated from RAF Waddington in Lincolnshire but have led to demonstrations outside the base.
Campaigners say they want to keep the human element involved and don't want a robot to decide on whether to take the life of a human being or not.
This autonomous technology is not being used yet but some hope it will be in the future.
Reconnaissance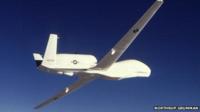 Global Hawk is the US Air Forces' long range surveillance UAV (unmanned aerial vehicle). It can fly for more than 28 hours and has a maximum range of 8,700 miles (14,000km).
It is designed to work during wartime to help ground teams monitor enemy activity and assess battle damage.
But that's not its only job. It can also work in natural disasters to aid in a rescue operation and was recently used by the US space agency Nasa to check changes in the environment.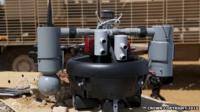 The Tarantula-Hawk takes off vertically and hovers to get a clear view of the ground ahead of troops.
It is used by the British Army in Afghanistan, clearing routes without risking human life and checking for roadside bombs.
Talisman is the army unit using T-Hawk. It is a counter-IED task force and uses specialist equipment, including this drone, to clear routes for large convoys.
Hunter-Killer
Reaper is operated by the RAF and US Air Force and can carry two guided bombs and four hellfire rockets to attack targets on the ground.
The RAF control the drones from RAF Waddington, while the actual aircraft are being used in Afghanistan to support ground forces.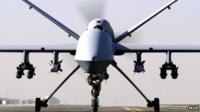 This aircraft in particular has come under scrutiny because it is one of the first drones specifically designed to carry weapons.
Ethical concerns have been raised about the use of drones in this way, mainly due to the detachment of a pilot pressing a button to fire a lethal weapon remotely.
The future of drones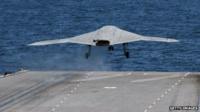 The X-47B is the US Navy's newest drone and is being tested onboard aircraft carriers.
It is the first full-size drone to be launched from an aircraft carrier but remains experimental.
Stealth drone
It is thought in time a drone could take off and fly into enemy territory without being seen by radar, fire weapons at pre-designated targets and return to base without any form of input during the mission.
Campaigners are pushing for a ban on this type of technology.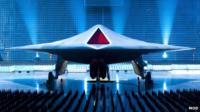 Taranis is a British experimental stealth drone and will be able to fly faster than the speed of sound.
Its developers insist it will still require human input to fly the aircraft.
BAE Systems have been ground testing the drone since 2010 and are hoping for a test flight at some point this year.
Follow @BBCNewsbeat on Twitter