Woolwich residents react to killing of young soldier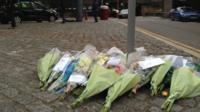 Westminster officials have confirmed both men in Wednesday's attack on a soldier in Woolwich, south-east London, had featured in "several investigations" by the security services.
But authorities don't believe there was any reason to suspect the men were planning an attack.
The victim has been named as drummer Lee Rigby. One of the suspects is understood to be 28-year-old Muslim convert Michael Adebolajo, according to sources.
The other has not yet been named, but both remain in hospital after being shot by police.
There are flowers left outside the barracks, with one saying "innocently taken" and another "to all at Woolwich barracks, lots of love".
Police have confirmed that 1,200 extra staff are on duty in the capital while Muslim groups in the UK have expressed revulsion at the killing.
Simon Nonis, 29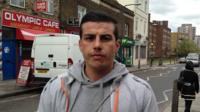 Simon has lived in Charlton and Woolwich his whole life and says there's been racial tension in the area for years.
"It's disgusting, a poor soldier's lost his life, for what? He served his country, comes back and gets killed in the street.
"There's racial tension anyway but this is going to cause a lot more grief."
He went on to speak about the EDL's actions. They were involved in a standoff with police on Wednesday night.
"I think they've got every right to be where they were and say what they've got to say.
"Those two people got shot, they got taken to hospital, they should've been left there, lying in the street, like that poor man was left there."
Tony Northover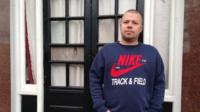 Tony Northover is the landlord of the Queens Arms pub, the meeting place for the EDL demonstration in the area.
"We understand how on EDL's Twitter page we were down as the official meeting place. We've nothing to do with EDL.
"There's been a sense of tension for a long while where we're situated. We have a mini-Nigeria that end and we have a mini-Somalia the other."
Sephton Henry, 24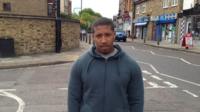 When we spoke to Sephton he was looking towards the police tape and was concerned about his future in the area.
"Me as a black person I can see that something's going to erupt.
"Because I'm a black male it's the same sort of violence that we see.
"It's just another scene of violence, I just can't take it."
Follow @BBCNewsbeat on Twitter