Paris Hilton to release second album through Cash Money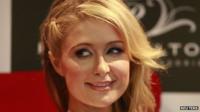 Paris Hilton will release her second album on record label Cash Money with the hotel heiress saying that the record is "really going to be house music".
Some new material has been produced by Afrojack and Lil Wayne is said to feature on some of the tracks.
The Cash Money label was co-founded by Ronald "Slim" Williams and Bryan "Birdman" Williams.
Birdman tweeted: "Welcome@ParisHilton to tha Family.RichgangRichgirl.YMCMB"
Best fans
Drake, Lil Wayne and Nicki Minaj are also signed to Cash Money Records.
Paris Hilton tweeted: "Love all you guys so much! So proud I have been Trending Worldwide all day & night because of you all. I have the best fans in the world! ❤"
In an interview with MTV News, Hilton said: "I think a lot of people don't know that music is my passion since I was a little girl.
"I'm very musically talented. This is more my thing [musically on this album], more of a club scene, more dance."
There is no official release date for the second album.
Follow @BBCNewsbeat on Twitter