Your view: Afghan army interpreters to be given UK visa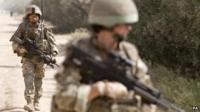 Up to 600 Afghan interpreters who worked alongside British troops are to be given the right to live in the UK.
A five-year visa will be offered to those who worked on the front line for a year or more.
Interpreters would have the choice either to go on working in Afghanistan or make a new start in Britain.
Many of the those who will be helped say they have received serious threats to their lives - some have already come to the UK to claim asylum.
Newsbeat listeners, who have served in Afghanistan, have been sharing their views on the plan.
Karl
Karl's a soldier who's served alongside the interpreters in Afghanistan.
"From experience I've found interpreters to be a massive help to the job.
"As British employers we have a duty of care over these people and we need to look after them.
"They are a massive asset to us and if we don't they should just go and work for other armies that are operational in Afghanistan."
Keiran
"I have been to Afghanistan twice and am due to deploy again soon.
"The interpreters do a good job, there is no doubt about it, they do put their lives on the line.
"But they are simply going to come over to the UK and they are going to abuse our benefits system, bringing other family members with them. I'm far from happy with this idea."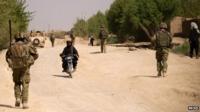 You've also been having your say, on Twitter and Facebook.
Chris: "They put their lives on the line to help our troops in a war they probably never wanted and are now in danger. We should help them. Simple."
Byron: "Ridiculous idea, as if the country's not overcrowded as it is!"
Sean: "I can't speak for all 600, but the ones I have met are genuinely good people."
Linda: "How many extended family members of translators will trick themselves into UK? As former immigration officer, seen it all."
Follow @BBCNewsbeat on Twitter.