Rise in 'misleading' online surveys and competitions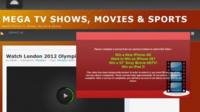 Regulators say there's been a big rise in complaints about online surveys and competitions.
PhonePayPlus issued fines totalling £1.4 million to 10 companies in 2012 and has fined another firm £200,000.
It says the premium services may not be illegal but are often misleading.
The regulator wants people to get in touch if they've been tricked. In some cases, people have signed up for things then get charged for text messages sent to them.
Some who followed a link to watch London 2012 Olympic streams were invited to fill in a survey before they could view the video.
By putting in their mobile number, they were in fact signing up for a premium rate messaging service.
They were then charged £10 every three days to receive the messages.
PhonePayPlus says the number of complaints about services like this has doubled in the past year, and four out of 10 were from people under 18.
Patrick Guthrie from the regulator says this type of thing has become more common: "A couple of years ago this was just not something that we saw at all.
He said: "We're now getting around 350 complaints a month, and it accounts for a third of all the complaints we receive.
"We know from experience that relatively few consumers actually complain. Most just absorb their losses and don't do anything about it."
The advice is to be wary of competitions offering prizes like iPhones, iPads and HDTVs and to read all the small print before putting your mobile number into any online forms.
People who have lost out should be refunded if a firm is found to have misled them.
Follow @BBCNewsbeat on Twitter