'My soldier son did not deserve to die in Ayia Napa'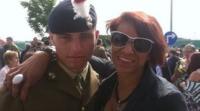 A British teenager has been jailed for eight years for killing a UK soldier in Cyprus.
David Collins, from 2nd Battalion the Royal Regiment of Fusiliers, was stabbed outside a nightclub in Ayia Napa last November.
It happened a day before the 18-year-old was due to fly to Afghanistan for a tour.
Mohammed Abdulkadir Osman, who's 20 and from London, pleaded guilty to manslaughter last month.
Charges against two other teenagers were dropped.
Manslaughter carries up to life in prison under Cypriot law.
Cyprus's criminal court said it acknowledged there had been a provocation which mitigated the offence to a degree "however we cannot overlook this criminal act which led to the death of a 18-year-old man", the court said in its verdict.
'So proud'
At Fusilier Collins' family home in Chorlton, a picture of him sits in the lounge.
A glass cabinet is filled with photos, his military hackle and beret.
Wearing a silver charm bracelet in memory of her son, Lisa Minott looks at pictures of her son, whose nickname was The Col.
"He lived and breathed the army. I was so proud," she says.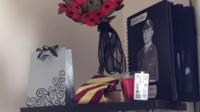 "If I'd got a phone call 24 hours later from Afghanistan saying he'd died, I would've expected it. But to hear he'd died before getting there? I still can't believe it to be honest."
Fusilier Collins had left his base at Dhekelia with three other off-duty soldiers after being delayed.
They travelled to Ayia Napa's main square for some drinks. A fight broke out and David was stabbed through the heart.
In court Mohamed Osman said it was self-defence but Lisa Minott doesn't feel there is a defence.
She said: "He [Osman] knew what he was doing when he took that knife out of his pocket.
"You're on holiday, why do you feel the need to take a knife out with you?"
Some reports suggested the fight had been race-related. Mohamed Osman is of Somali origin and his two friends, who had all charges dropped against them, are of Pakistani descent.
"It's ridiculous," she said. "I'm half-Jamaican with a part-Asian sister so people don't realise David had colour in him.
"He was brought up in a multicultural family. I also heard there was a north-south divide but the soldiers David was with were from London."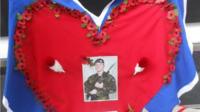 In Cyprus some locals suggested he shouldn't have defied army rules to go to the main square in the first place.
The Ministry of Defence banned military personnel from entering during certain hours in 1994 when three servicemen were convicted of kidnapping, raping and killing Danish tour guide, Louise Jensen.
Lisa thinks the rule is unfair.
"There're lots of places we've all snuck into when we're teenagers," she said. "Remember these are young lads who are going to war.
"We've got to allow them some time to relax. He didn't deserve to die like that."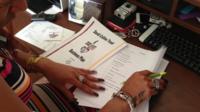 Lisa Minott says she is now focused on raising awareness of knife crime with the David Collins Trust and on becoming a grandmother to Fusilier Collins' second child due later this year.
"My heart does go out to the parents on the other side, because their son is locked up in a foreign country.
"But then at least they have their child. I'm never going to see my son again."
Follow @BBCNewsbeat on Twitter