Kerry Katona payday loan advert is banned by ASA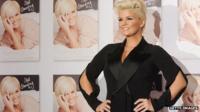 An advert for a payday loan featuring Kerry Katona has been banned.
Some people complained to the Advertising Standards Authority (ASA), who said it suggested the money could help to fund a celebrity lifestyle.
Others complained it was irresponsible because it focused on her financial problems and encouraged people in similar situations to borrow cash.
The ASA said the advert promoted itself as an alternative to banks while offering an APR in excess of 2,000%.
The ad for PDB UK, trading as Cash Lady, featured Kerry Katona saying: "We've all had money troubles at some point, I know I have. You could see your bank and fill in loads of forms, but is there an easier way to get a loan."
Cash Lady said Katona was chosen as its "face" because she had experienced money troubles in the past and their customers would be able to relate to her.
'Particularly attractive'
It said its loans were limited to £300 and were therefore aimed at those experiencing relatively low-level short-term financial difficulties with a need to bridge a gap between paydays.
However, the ASA said references to Katona's financial problems within the ad "had the potential to encourage vulnerable viewers with financial problems and/or restricted credit from seeking to resolve them through the payday loan service".
It said some viewers with restricted credit may have found the product in the ad particularly attractive because of their identification with Katona and the references to her own past financial problems.
"The ad should not appear in its current form," a statement said. "We told Cash Lady to take care with the overall presentation of information of its loans."
Follow @BBCNewsbeat on Twitter