Newsbeat's guide to... the Queen's Speech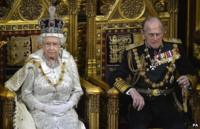 Plans for new laws on immigration, dangerous dogs and the internet have been announced by the Queen.
The speech sets out the government's plans for the next year.
The plans included new rules making it easier to send foreign criminals back home.
Letting a dog run out of control on private property will be made illegal and a new consumer bill will mean the right to a refund if a download or app doesn't work.
It will take months of debate before the plans can become law.
What is the state opening of Parliament?
The state opening of Parliament is when the Queen announces the government's plans for the political year ahead.
As head of state, it's her duty to open each new session at the House of Lords.
A team of top politicians spends months deciding what goes into the Queen's Speech but the prime minister has the final say.
Not all plans, or bills, will make it into the speech because they need more work, are ditched or would take too long to get through Parliament.
The government can add extra bills to the timetable through the year.
No monarch has set foot in the House of Commons since Charles I entered and tried to arrest five Members of Parliament in 1642.
Why is Prince Charles attending?
The Prince of Wales is attending the State Opening of Parliament for the first time in 17 years.
He's supporting the Queen more now in her official duties and will attend with the Duchess of Cornwall for the first time.
Charles has accompanied the Queen to the state opening of Parliament 11 times but not since 1996.
The Duke of Edinburgh sits to her left as she delivers the speech with Charles to her right.
The Queen has opened Parliament on all but two occasions throughout her reign - in 1959 and 1963 - when she was pregnant with Prince Andrew and then Prince Edward.
How it works
Before the event, the Yeomen of the Guard search the cellars of the Palace of Westminster to avoid a repeat of the failed Gunpowder Plot of 1605.
There is also a dinner at 10 Downing Street which ministers must attend and at which the speech is read out to them.
When the Commons is together on the day of the speech, a representative from the House of Lords - known as Black Rod - walks across from the Lords to call MPs through to hear the speech in the upper chamber.
The door of the commons is slammed in his face to show its independence but he's allowed in, as the royal messenger, after banging on the door three times with his rod.
Follow @BBCNewsbeat on Twitter