Lindsay Lohan enters rehab after walking out of facility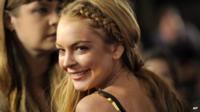 Lindsay Lohan has checked into a rehab and will not face a probation violation for leaving another treatment facility after a few minutes.
Santa Monica prosecutor Terry White said he had received confirmation that the actress had checked into a rehab facility and that he was satisfied with her location.
It's thought she has checked in to the Betty Ford Centre in California.
The star has to spend 90 days in rehab as part of a previous plea deal.
Lohan was sentenced to three months at a lockdown rehab facility and also received 18 months of psychotherapy to avoid a return to jail.
It is after the 26-year-old's sports car crashed into a truck on the Pacific Coast Highway last summer.
'Not licensed'
There were hours of uncertainty about where the Liz & Dick actress was on Thursday evening.
Lawyer Mark Jay Heller told a judge during a hearing earlier that day that Lohan had checked in to a different rehab facility south of Los Angeles, but the 26-year-old left it after a few minutes.
Terry White was given several days to investigate that facility, which a state official said was not licensed to perform residential drug or alcohol rehab treatment.
It is not the first time she has received treatment at the Betty Ford Centre.
She was sent there in 2010 after a drink-drive case but got into an altercation with a rehab worker, who later sued her for damages.
Lindsay Lohan also remains on probation for taking a necklace from a jewellery store without permission in 2011.
Follow @BBCNewsbeat on Twitter