Newsbeat's... guide to The UK Independence Party (UKIP)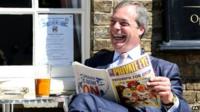 Council election results show the UK Independence Party (UKIP) has picked up early gains, but what does that mean?
Votes were held in 35 councils in England and Wales.
The Conservatives have lost control of two councils, but retained five others, while Labour made small gains in the Midlands and the south of England.
Read a quick guide to the political party that doesn't have any MPs but wants Britain to leave the EU and put a freeze on immigration.
A bit about the party leader
Nigel Farage (pictured above) helped to found the party in the early 1990s and is UKIP leader.
The former Conservative Party member was lucky to survive after a small plane he was in crashed during the 2010 General Election campaign.
Policies
UKIP wants: Britain to leave the EU; a flat income tax rate of 31 % for everyone; more grammar schools.
Senior UKIP MEP Godfrey Bloom recently told the BBC that women of a "child bearing age" shouldn't be employed because maternity rights are too "draconian".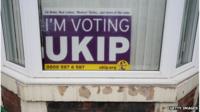 How much power does UKIP have?
UKIP has no MPs, so has not won a seat in the House of Commons to date.
But it does have 11 MEPS (Members of the European Parliament) after the 2009 elections.
At the last General Election in 2010 the party got 3.2% of overall votes compared to the Conservatives (39.6%), Labour (28%) and the Liberal Democrats (24.2%).
UKIP has become the second-largest party in Lincolnshire.
Despite recent council election victories, UKIP has not won any parliamentary elections.
The UK Independence Party may end up with dozens of councillors but not many hundreds, unlike their opponents. It is unlikely the party will run any council alone.
The significance of the Eastleigh by-election
UKIP achieved its best showing of votes in an election to Parliament at the Eastleigh by-election on 28 February.
Their candidate came second, with 28% of the vote, edging out the Conservatives - who once had the MP there - into third place.
The by-election was called after former Lib Dem cabinet minister Chris Huhne resigned as an MP following an admission he had lied about a driving offence.
Follow @BBCNewsbeat on Twitter