Inbetweeners confirm sequel will be their final film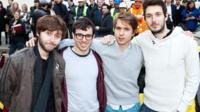 The makers of 2011's Inbetweeners movie have confirmed that the sequel will be the final UK film featuring the original cast.
A message posted on the show's official Facebook page reads: "We hope to have a new and definitively final film for you some time next year.
"Nothing's signed yet and Australia is just one of the ideas we're kicking around."
The statement was in response to an article in Wednesday's Sun newspaper.
The tabloid claimed the second film based on the teenage school friends would be set in the Australian outback.
'We miss you'
"We told you you'd be the first to hear about Inbetweeners stuff," the statement said.
"And although that's still true The Sun went rifling and found some stuff out about a sequel.
"We hope you miss us as much as we miss you."
The original Inbetweeners film released in August 2011 holds the record for the most successful British comedy of all time.
It centred around the group heading off to the Greek island of Crete on a summer holiday to celebrate leaving school.
It made more than £13 million in its opening weekend and is estimated to have made more than £80 million worldwide.
Starring Simon Bird, James Buckley, Blake Harrison and Joe Thomas, the Inbetweeners was first aired on E4 in 2008.
The success of the British version saw it remade in the US although it was cancelled after one series.
Follow @BBCNewsbeat on Twitter