Lady Gaga's manager signs YouTube dubstep violinist
Lindsey Stirling has more subscribers to her YouTube channel than Rihanna, Jay-Z or Beyonce.
The 26-year-old is a self-proclaimed "rock star violinist" whose videos have been viewed nearly 300 million times.
Her popularity has grown so much online, she's now signed a deal with Lady Gaga's manager, Troy Carter.
But instead of transferring that success into the world of TV and radio, her team insist they'll keep Lindsey Stirling as an online artist.
Online focus
"I'm going to continue using the model I've always used," says Stirling, talking from her manager's office in Los Angeles.
"It's not: 'I used that to build my career and now I'm going to jump over to a major record label.' When you're a YouTuber you have a creative control because it's just you and your audience."
One of the reasons for her online rise to fame is her use of dubstep in her most popular video, Crystallise. It has more than 57 million views and was one of 2012's most watched videos.
She has also covered artists such as Rihanna, Imagine Dragons and Macklemore.
Her co-manager Ty Stiklorius says it makes sense to keep her as a predominantly online artist.
"We are focussed on YouTube with Lindsey because that's what she built and that's where she is," he says.
"Real big brand name musicians are still trying to find their way there. Jay-Z's a huge name but he hasn't done on YouTube what Lindsey Stirling has done."
Lindsey Stirling's success is a sign that online space, namely YouTube, can not only help discover artists, but be the driving force in their financial success.
"YouTube is a place where you can make money," says Lindsey Stirling.
"The money is increasing. It used to be very minimalistic but now YouTube is selling ad space for more so it's becoming more of a substantial market all the time."
Co-manager Ty agrees: "It'll be interesting to watch non-YouTube artists finding that space as a huge marketing platform for themselves."
In 2010, aged 23, Stirling was a quarter-finalist on the fifth season of America's Got Talent.
She has now sold more than 100,000 albums and performed to sell-out crowds on the back of her online popularity.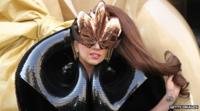 Follow @BBCNewsbeat on Twitter