N-Dubz singer Dappy loses appeal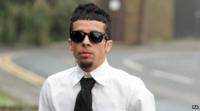 N-Dubz star Dappy has lost his appeal against convictions for affray and one count of assault.
The singer was given a six month sentence, suspended for 18 months, for his part in a petrol station brawl.
He was also ordered to carry out 150 hours of community service after a trial at Guildford Crown Court in February.
The musician was not at the Court of Appeal in London for the result of the hearing.
Speaking at the end of the original court case Dappy whose real name is Costadinos Contostavlos said: "I thought it was the end. Everything I'd worked so hard for all these years.
"I can't lie, I dropped a tear in that dock."
During a nine-day trial in January, the court heard Dappy sparked a "mob-handed attack" when he spat at a teenage woman on a petrol station forecourt.
Dappy's co-defendants Kieran Vassell, 25, and Alfred Miller, 28, also lost their appeals against their sentences.
Vassel from west London was found guilty of affray and jailed for 14 months.
While Miller from north London received 19 months in prison.