Yasmin Evans is to co-host BBC Radio 1Xtra breakfast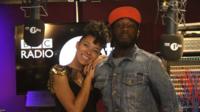 BBC Radio 1Xtra has announced Yasmin Evans is to co-host the station's breakfast show with Twin B.
She will move from her present slot presenting the weekend 7-10am breakfast show to the equivalent weekday show together with the current host.
The 22-year-old first appeared on 1Xtra after completing a pilot scheme that helps young people get into radio.
Before the scheme Yasmin Evans worked on community radio.
Rhys Hughes, head of Radio 1 and 1Xtra programmes, said: "We wanted to take the weekday 1Xtra Breakfast Show to the next level by combining their presenting talents.
"They have a natural chemistry and passion for the music that will be a great start to the 1Xtra day."
Yasmin Evans will present her first show with current host Twin B on 1 July. Details on her replacement on the weekend breakfast show will be announced in the coming weeks.
Twin B described Yasmin as "a diamond" and a massive music lover.
He said: "We're gonna have so much fun in the morning its unreal."
Follow @BBCNewsbeat on Twitter