The Wanted announce their new single Walks Like Rihanna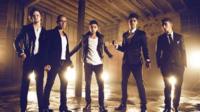 The Wanted have announced their first single of 2013 will be called Walks Like Rihanna.
Siva Kaneswaran told Newsbeat that the song wasn't actually about the singer from Barbados, it was just a reference to her.
"It makes sense in the context of the song lyrics," he says.
"She can't sing and she can't dance but at least she walks like Rihanna, she can't do anything else but at least she's got that."
The song was co-written and produced by Dr Luke who has worked with Katy Perry, Pink and Britney Spears in the past.
Siva Kaneswaran says this track is the most pop infused song the boy band has ever done.
"It's very hard hitting at points, it just brings it back to the essence of pop," he says.
"We love pop, everyone knows we don't take ourselves too seriously and everyone will see that in this new track."
Walks Like Rihanna will be released on 23 June and will feature on their as yet unnamed third album.
The single includes vocals from Nathan Sykes, which were recorded before he underwent throat surgery in Los Angeles last week.
Follow @BBCNewsbeat on Twitter