Council officially considers drug consumption room
Brighton & Hove Council has become the first in the UK to officially consider opening a drug consumption room.
A 12-month review of the area's drug problem suggests the facility could help reduce deaths and encourage addicts away from shooting up in public places.
A handful of European cities have drug consumption rooms including Germany.
Newsbeat's Declan Harvey has visited Frankfurt's biggest one, and spoke with some of the addicts who inject there.
"We're not the most popular neighbour," admits Andreas Geremia. He runs a drug consumption room in Frankfurt's red light district, near the cities main train station.
Look inside a drug consumption room in Germany
In 2012 the centre had 100,000 visitors. It provides fresh needles, syringes and other bits and pieces used for injecting heroin and crack cocaine.
When the centre opens in the morning a group of people are already waiting outside. Some of them stagger and Andreas explains: "Many people are shocked at how normal our clients look."
He says Brighton and the UK should welcome the drug consumption room as it has helped Frankfurt bring the problem of public drug use under control.
The centre also offers help accessing doctors, rehab and help with social services and parole officers.
Despite managing to get the problem off the streets, Andreas admits: " In Germany drug use is falling but in Frankfurt it has increased."
Henry says he first took heroin aged 20. He's now 42 and comes to the drug consumption room every day. He'll continue taking heroin whether it's there or not.
"They are a good thing because it stops addicts from doing drugs on the streets and it is safe," he says.
However he told us: "If I had a family and children I would not want a consumption room near my house."
Drug related deaths
Andreas says of the people who come in to inject heroin of crack cocaine, on average two a week overdose and need medical help but he is proud that they have never had a death in this room.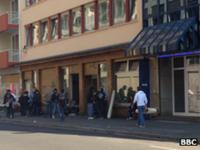 Brighton & Hove Council say they have changed their approach to dealing with the drug problem in the area. They say they used to have the highest level of drug related deaths in the UK - now they are eighth.
Manchester is now number one according to St George's University of London. The city council there say they are watching with interest any attempt to introduce drug consumption rooms in the UK.
Follow @BBCNewsbeat on Twitter