Gwyneth Paltrow beats Beyonce as 'most beautiful woman'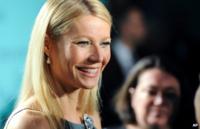 Oscar-winning actress Gwyneth Paltrow has been named the world's most beautiful woman by People magazine.
The 40-year-old mother of two knocks singer Beyonce off the top spot.
She says she keeps in shape by exercising five days a week.
"It makes me look younger and feel strong," Gwyneth Paltrow told the US magazine. "When I first started, I thought, 'I'll never be good at this. This is a nightmare.' But now it's like brushing my teeth, I just do it."
It is the fourth time Gwyneth Paltrow, who is married to Coldplay singer Chris Martin, has been named in the magazine's annual beautiful people issue but the first time she has come top.
She joins the likes of fellow actresses Jennifer Lopez, Julia Roberts, Halle Berry and Jennifer Aniston to top the list.
Gwyneth Paltrow's latest film, Iron Man 3, is out in cinemas this week.
The actress has cut back on her film work after having her children - Apple, eight, and Moses, seven.
She also released her second cookbook, It's All Good, this month and set up a lifestyle and clothing website.
Paltrow won an Oscar for her role as William Shakespeare's muse in the 1998 film Shakespeare in Love.
People's Top 10 Most Beautiful list
1. Gwyneth Paltrow
2. Kerry Washington
3. Amanda Seyfried
4. Zooey Deschanel
5. Jane Fonda
6. Jennifer Lawrence
7. Kelly Rowland
8. Halle Berry
9. Drew Barrymore
10. Pink
Follow @BBCNewsbeat on Twitter