Calls for 'tighter rules' on cosmetic surgery
24 April 2013

From the section

Health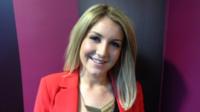 There are calls for major changes to how people access cosmetic procedures.
An independent review suggests that injections of anti-wrinkle treatments or fillers should be prescription only and says dermal fillers are a "crisis waiting to happen".
The experts say cosmetic surgery has been "trivialised" and accuses providers of putting profit first.
There has been a big increase in sales of dermal fillers, which are designed to fill lines in your face.
At the moment, almost anyone can inject a dermal filler.
The recommendations suggest anyone doing any type of cosmetic procedure from fillers to Botox or surgery should be registered or be qualified to do so.
The government says it plans to make sure the public is protected.
Chelsea Butler, 22, is from Essex and went to a ladies' night at a club with her friends.
A guy there was offering Botox and lip fillers.
"It was my first time and I asked for half a syringe," she said. "Later though he got out a different brand of filler and injected some of that as well."
Chelsea says it was four days later when she realised that she had more than just bruising.
"I noticed there started to be some hard lumps in my lips," she said.
Chelsea thinks it's rare to have an allergic reaction to a filler but says, "I would never have it done again [lip fillers].
"I wouldn't even have it done with a professional now because I know lip fillers are very different to what they used to be.
"He shouldn't be doing fillers at all. I've got pity for anyone who goes to him really and makes the same mistake I did."
Follow @BBCNewsbeat on Twitter