Radio 1 breakfast show's Nick Grimshaw goes on tour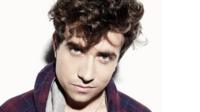 BBC Radio 1's breakfast show presenter Nick Grimshaw will be taking his programme on tour.
The four-date tour will see him broadcast special shows from previous Big Weekend host cities, including Bangor (29 April), Maidstone (2 May) and Swindon (8 May).
As part of the build-up to Radio 1's Big Weekend in Londonderry, the DJ will broadcast the final show in the tour from the city on 13 May.
He will be joined by special guests.
Union J will appear live in Bangor.
'Can't wait'
Grimmy, as he's known on Radio 1, will present his show from local schools in front of an invited audience on the Bangor, Maidstone and Swindon dates.
The final show in the tour will come from Radio 1's Academy in Derry.
The academy will open from 11-17 May to offer a range of workshops and sessions to local young people.
The DJ has been presenting the breakfast show since September 2012. This is the first time the show will go on the road.
Nick Grimshaw said: "I can't wait to go wild on tour with some of my favourite pop stars and it'll be great to meet the good listeners of Radio 1."
Follow @BBCNewsbeat on Twitter