Glee is renewed for two more series by Fox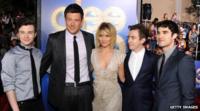 TV musical Glee has been given the go ahead for two more series.
American television network Fox has given co-creator Ryan Murphy and the producers of the programme an opportunity to plan more storylines for the characters.
The show is in its fourth season and follows a high school singing club.
It has since changed its focus to the college world of cast members Lea Michele and Chris Colfer.
50 million downloads
Ratings for the premiere of the third series fell 29 percent in America compared to the previous year. However, Glee still remains popular among 18 to 34-year-olds.
In a statement, Fox Entertainment Chairman Kevin Reilly said Glee continued to break new ground as a rare successful TV musical comedy.
He said: "The show has been a music hit as well, with more than 50 million downloads of Glee tracks and worldwide album sales of more than 13 million."
The first show aired in 2009 and followed the students of McKinley High School, who form a Glee club.
The fourth series focused on both the school and the graduates who are at a performing art college in New York.
Mr Murphy hinted in interviews that he wanted the fifth season to focus on one of those locations but did not say which one.
The show is shown on Sky1 in the UK.
Follow @BBCNewsbeat on Twitter