Reebok drops Rick Ross over 'pro-rape' lyrics in song
12 April 2013

From the section

Music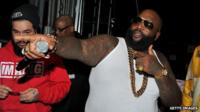 Reebok has ended its relationship with Rick Ross following criticism of lyrics by the rapper which one women's group says are pro-rape.
The 37-year-old apologised in a tweet last week after UltraViolet protested outside one of the company's shops in New York.
In a statement, Reebok said: "Reebok holds our partners to a high standard and we expect them to live up to the values of our brand.
"Rick Ross has failed to do so."
In Rocko's song U.O.E.N.O., Ross raps about giving a woman the drug MDMA, known as Molly while on a night out.
"Put Molly all up in her champagne, she ain't even know it, I took her home and I enjoyed that, she ain't even know it," he rapped.
The song was released in January but he said in a tweet that his lyrics had been misinterpreted and that he didn't condone rape.
Rapper Rocko, who will release his second album this year, has said that he is removing Ross' rap from his song.
'Morally wrong'
Ross has appeared in adverts for Reebok Classic trainers.
The company says it does not believe that the Grammy-nominated rapper "condones sexual assault", but that it is not happy with how he has handled the situation.
"We are very disappointed he has yet to display an understanding of the seriousness of this issue or an appropriate level of remorse," the statement added.
"At this time, it is in everyone's best interest for Reebok to end its partnership with Mr. Ross."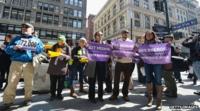 UltraViolet said in a statement: "We are thrilled to hear that Reebok is joining the fight against rape culture and dropping Rick Ross.
"This sends a strong message that rapping about drugging and raping an unconscious woman is not only morally wrong, but has real consequences."
Four of Rick Ross' five albums have gone gold, including last year's God Forgives, I Don't, which earned a Grammy nomination for best rap album.
His hits include The Boss and Aston Martin Music and he has collaborated with acts like Kanye West, Drake, John Legend and Nicki Minaj.
Follow @BBCNewsbeat on Twitter