Firm explains approved Premier League goal-line system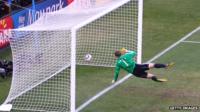 England's top-flight football clubs have voted to introduce Hawk-Eye goal-line technology to the Premier League.
The division had already said it wanted to use it "as soon as possible".
The 20 Premier League chairmen have given the go-ahead so it can be installed for next season, although the FA will install a system at Wembley Stadium in time for the Community Shield in August.
Four Fifa-approved goal-line technology (GLT) companies were being considered.
Look at pictures of some of the world's most famous "ghost goals".
The companies
Last week German firm GoalControl, which uses a camera system, was handed a contract to supply GLT to this summer's Confederations Cup.
They were also in the running for the Premier League deal, along with two other German based companies.
Cairos and GoalRef both use a sensor inside the ball to detect if a goal has been scored.
Hawk-Eye, a system well known for providing tennis and cricket with ball-tracking technology, also uses cameras.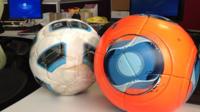 Using seven cameras per goal to detect the ball, Hawk-Eye claims to be "millimetre accurate".
Laurence Upshon, 24, is working on the project.
"Our technology is based on high-speed cameras, triangulating where a ball is on the field and it can be used as an officiating aid or for TV," he said.
"If the ball crosses the goal-line it then sends a signal to the referee within a second."
The 20 Premier League grounds and Wembley will have the necessary equipment installed during the close season.
"We've had really good feedback from players because we don't influence their playing environment, they're happy," added Laurence.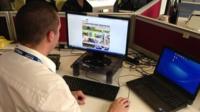 "It was disappointing to lose out on the Confederations Cup but we can focus on other contracts."
Laurence Upshon, who joined the Sony-owned company after finishing university, said he would have been disappointed if they had missed out on the Premier League deal.
"We've put in a lot of hard work, it's fantastic news and I will have a very busy summer ahead."
Your say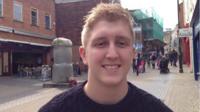 "I'm not in favour of goal-line technology because it takes the excitement away," said 17-year-old Ben O'Shea.
"If it's going to be done in the Premier League it should be used for every league."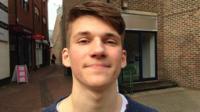 "There's no worse feeling than realising the ball has gone over the line," added Tom Sawuko, 17.
"I think it adds a fairness to the game so I'm all for it."
Follow @BBCNewsbeat on Twitter